Managing Election Violence and Sustaining Peace and Security in West Africa
In 2023, GPPAC West Africa organised peer-to-peer learning sessions involving members from Nigeria, Guinea, Ghana, Senegal, and Niger to address election violence prevention in the region.
This outcome paper shares insights derived from these discussions, presenting key recommendations aimed at ECOWAS Member States, civil society actors and development partners.
The year 2023 witnessed different forms of elections take place in Nigeria, Liberia, Sierra Leone, and Guinea. These elections sparked considerable attention within the GPPAC West Africa network due to historical concerns regarding electoral violence and insecurity. They occurred during a crucial period when the region's commitment to establishing democracy and lasting peace was under severe strain. Factors such as the rise of violent extremism, a diminishing civic space, increased radicalisation, and a resurgence of coup d'états in the ECOWAS region contributed to this challenging environment.
In addition to key recommendations, the outcome paper shares in-depth information on
Trends and trajectories of election violence in West Africa

Triggers and consequences of election violence in West Africa

Initiatives towards managing election violence and promoting peace in West Africa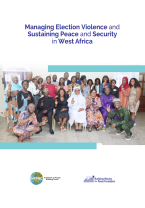 Download publication