Localising Climate, Peace and Security: A Practical Step-by-Step Guidance Note for Local Peacebuilders
The GPPAC practical Step-by-Step Guide is a resource on how to document, assess, and address climate-related security risks at the local level.

It outlines five steps to help local peacebuilders document local climate security challenges and address gaps in current climate change and conflict response strategies by creating and implementing a localised risk assessment.
GPPAC members from Mozambique, Uganda, and Zimbabwe piloted the Step-by-Step Guide in their communities. GPPAC developed the Step-by-Step Guide for local peacebuilding experts worldwide to conduct a climate security risk assessment based on their local and indigenous knowledge and expertise to design strategies for mitigating and adapting to climate risks.
The Step-by-Step Guide provides tips and suggestions for local peacebuilders to develop and utilise a localised climate security risk assessment and share their findings with national, regional, and global policymakers.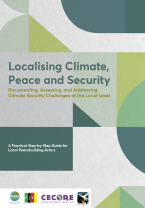 Download publication