Reducción de los espacios cívicos y desafíos para la resiliencia en Guatemala, el Salvador y Nicaragua
This reflective essay illustrates the current situation of the closure of civic spaces and social participation in Guatemala, El Salvador and Nicaragua. 
On the basis of national experiences, which emphasise the particularities of each country, it provides a regional reflection on the common features of the three experiences. It includes the resilient capacities of civil society and concludes with a final reflection and regional and national recommendations. 
Read the full policy brief in Spanish.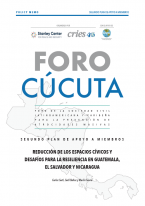 Download publication