La extorsión como detonante de desplazamiento y migración forzada en el triángulo norte de centroamérica
Within the framework of the initiatives generated by the Cúcuta Forum, this report analyses the causes and challenges of irregular migration from Central America to the United States. The interest arises from the observation, through testimonies and monitoring from different sources that the generalised violence and, increasingly political violence is increasing as a cause of the thousands of Central Americans who forcibly decide to leave their homes in order to face a dangerous road full of dangers of which they are fully aware. 
The authors seek to answer what are the current characteristics of this irregular migration and what are the conditions that encourage hundreds of people to consider that they prefer to take the risks they will inevitably face on a dangerous journey to the US than to continue living at risk and danger in their own countries. There has been an emphasis on the countries of Honduras, Guatemala and El Salvador, known as the Northern Triangle of Central America (TNCA). The NTCA is the sub-region of the largest number of irregular migrants. However, it is important to highlight that recently, there has been an increase in the number of migrants of Nicaraguan origin, who take this same irregular migration route, which breaks the traditional Nicaraguan mobility towards its southern neighbour, Costa Rica.
Representatives of migrant families and returnees, as well as representatives of the micro-enterprise sector, were interviewed in the framework of this study, non-governmental organisations, as well as state actors and state actors linked to issues of generalised violence, in which the practice of extortion and real power groups in their respective countries stand out as a driving force behind migration. Their contributions have provided a broad vision of this phenomenon, as well as suggesting, from their experiences, a better approach to finding more humane and effective solutions.
Read the full policy brief in Spanish.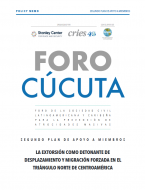 Download publication