Operationalising the Peacebuilding and Sustaining Peace Agenda in Somalia
This report first presents a brief overview of the peacebuilding context in Somalia, briefly summarising the current state of affairs in the country, and highlighting key achievements and outstanding challenges in terms of peacebuilding and sustaining peace. The report then provides an initial assessment of the progress made in terms of implementing the Peacebuilding and Sustaining Peace Agenda in Somalia by reflecting on the required shifts as identified by the Secretary-General on leadership, accountability, and capacity, operational and policy coherence, partnerships, and financing.
For each of these sections, the report first presents a brief descriptive overview of the key structures, frameworks, and instruments in place relevant for the required shift, followed by an analysis of how these have contributed to the UN's ability to implement the Peacebuilding and Sustaining Peace Agenda in Somalia. Practical recommendations for the UN and the donor community working on peacebuilding and sustaining peace in Somalia on how to further the implementation of the agenda include:
Develop a dedicated peacebuilding strategy

to strategically coordinate all peacebuilding activities, including activities conducted by non-UN partners. More concretely, this includes reviewing activities under the current UN Sustainable Development Cooperation Framework (Cooperation Framework) to strengthen the focus on conflict sensitivity and conflict prevention and creating dedicated spaces within existing coordination platforms for regular, informal, and inclusive multi-stakeholder reflection and learning to capture and document ideas.

Commit to coordination among various peacebuilding stakeholders

and effort to reach a consensus about common concepts, operational policies, and tools that facilitate cooperation. This requires capitalising on the role of the UN as a facilitator and coordinator, rather than an implementer. More concretely, this includes specifying the role of regional partners in the Cooperation Framework to amplify gaps and overlaps in relevant peacebuilding and conflict prevention activities and provide an effective platform for dialogue and consensus-building

Institutionalise systematic community engagement strategies –

as the partnership with civil society currently lacks depth and institutionalisation. More specifically, the UN should conduct an assessment of the existing partnerships to understand the root causes of the current engagement fatigue and establish a systematic and institutionalised community engagement strategy with civil society focal points available in all UN entities in Somalia,

Ensure the quality of financing

– long-term, context-specific, and flexible, among other factors – particular attention. For this, bilateral donors should consider

directly funding

through pooled fund mechanisms and removing earmarking from their contributions to enable additional flexibility in resource management.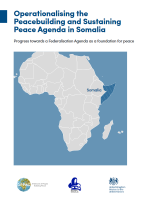 Download publication