Sustaining Peace in Practice: Lessons Learned from Liberia and Papua New Guinea
In line with the Secretary-General's 2018 report on peacebuilding and sustainable peace (S/2018/43), the project assessed implementation of peacebuilding and sustaining peace across four key pillars: operational and policy coherence between all United Nations actors in headquarters and in the field; United Nations leadership and capacities to institute a common approach to sustaining peace; partnerships with local, national and regional actors; and financing for peacebuilding.
The contexts of Liberia and Papua New Guinea are examples of complex situations of transition and political shifts. The assessments conducted in these countries emphasize the importance of strengthening policy coherence; recruiting resident coordinators with the right skill sets; building the capacity of government and local peacebuilders; ensuring continuous and flexible funding; and working with the Peacebuilding Commission to raise and maintain political attention in New York.
In this submission, GPPAC and IPI share the key takeaways from their joint research on the operationalisation of the Secretary-General's recommendations on peacebuilding and sustaining peace at the country level in Liberia and Papua New Guinea. It provides an overview of the United Nations' preparedness to address complex situations and serves to inform the 2020 Secretary-General's report on peacebuilding and sustaining peace, as well as the 2020 peacebuilding architecture review.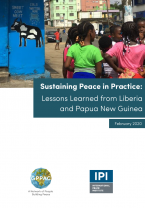 Download publication