Seminario Internacional de Seguridad Humana y Justicia Transicional
El pasado 14 y 15 de marzo del 2017, en el auditorio de la Escuela de Ingenieros Militares, se realizó el Seminario Seguridad Humana y justicia transicional organizado por el Comando General de las Fuerzas Militares, Alianza Para La Paz, Interpeace y el Global Partnership for the Prevention of Armed (GPPAC) con el apoyo de la Embajada del Reino de los Países Bajos. El Seminario tuvo como objetivo generar un debate acerca del concepto de seguridad integral y humana, buscar su mejor contextualización, y, sensibilizar sobre su utilidad en la institucionalidad pública colombiana.
Como antecedente, uno de los principales espacios internacionales de debate participativo sobre el concepto de seguridad humana fue el propiciado por el GPPAC, del cual Interpeace formó parte y cuyo principal resultado fue la publicación del Handbook on Human Security (Manual de Seguridad Humana) publicado en el año 2016.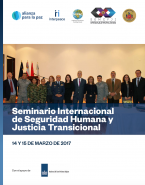 Download publication