Advancing Local Peacebuilding Impact Through Quality Financing
On 23 May 2023, a civil society-donor roundtable discussion took place in Yaoundé. The discussion focused on best practices that champion solutions for more impactful financing for peacebuilding in Cameroon, Nigeria and Uganda. It provided a space for the donor community and local actors to come together and discuss how these best practices are scalable and how donors can work together to continue learning from each other and/or jointly by testing new ways of supporting local organisations.
During the discussion, the following key elements that contribute to strengthening local actor's ownership, leadership, and meaningful engagement at the country level emerged:
Donors should engage with local peacebuilding organisations as partners and not as contractors or implementers.

Donors and local peacebuilding organisations should invest in relationship-building based on equal footing, trust, understanding, and encouragement. 

Donors should support local peacebuilding organisations, especially women-led and youth-led organisations, in getting access to key spaces.

Donors should adopt participatory grantmaking methodologies.

Constructive relationships between civil society and the government are crucial for impactful peacebuilding action.

Donors and local peacebuilding organisations should allow a broader discussion on the value and impact of national peacebuilding networks.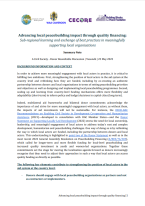 Download publication