New book: Civil Society, Peace, and Power
This book provides insights about the expanding role of civil society in building sustainable peace. The focus is on multi-stakeholder, systems-based approaches to peacebuilding and human security that involves diverse civil society groups, government agencies, intergovernmental organisations, and security forces.  The book illustrates how the involvement of civil society can result in better informed, more inclusive, more accountable government decision making, and more effective peacebuilding policies.
This book includes chapters from GPPAC Executive Director Peter van Tuijl, GPPAC Manager for Policy and Advocacy Darynell Rodriguez Torres, GPPAC Board Chair Sharon Bhagwan- Rolls.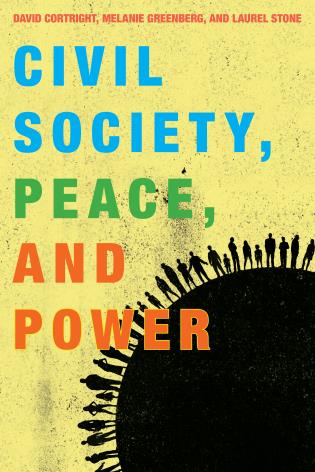 The book has been edited by David Cortright, Director of policy studies at the Kroc Institute for International Studies, Melanie Greenberg, President and CEO of Alliance for Peacebuilding and Laural Stone, Program Manager for Policy studies at the Kroc Institute for International Studies at the University of Notre Dame.
This book arose out of collaboration with the Kroc Institute for International Peace Studies at the University of Notre Dame, the Alliance for Peacebuilding (AFP) and the Global Partnership for the Prevention of Armed Conflict (GPPAC). All of the three organisations have worked closely for years with civil society in peacebuilding, conflict prevention and human security. They have also engaged in programs linking civil society with policymakers in the areas of sustainable development, human security and cooperation with Regional Inter-Governmental Organizations (RIGOs). 
To order the book:
Delivery for UK and rest of the world:  please send an email. 
Delivery for the Americas: https://rowman.com/ISBN/9781442258556/
The launch of the book will take place Thursday 3 November at the University of Notre Dame in the United States. A number of our members will also be present at the book launch, as the launch coincides with GPPAC's International Steering Group meeting that is being held in the week of 1-3 November at Notre Dame University. Our members are together to reflect, discuss and plan their work on peace and conflict prevention.